In November 2015 two young and engaged german women Julia Huk and Isabella Kohls, created a new intercultural Musicproject called "bridges - Musik verbindet".

Aim of the project is to play music together with german and refugees musicians. The basic idea of the project is to use the power of music to integrate people who had to flea from their countries and have been stranded in germany, as also to overcome prejudices and cultural differences and learn each other to know better.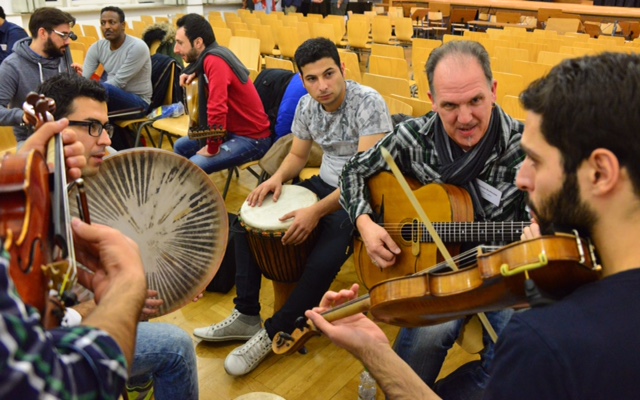 After a first meeting in january 2016 musicians of all nationalities formed ensembles for that aim, to work on certain musical pieces.
This work will result in a charity-concert together on april 19th 2016 at the ­Sendesaal of german TV "Hessischen Rundfunk" in the Bertramstrasse 8 in Frankfurt.
Entrance is free, donations will be asked kindly. The concert and its donations are beeing held for the german Refugees Help-Foundation.
I decided to be part of the project in December 15, signed up for it and will be part of this concert on 04-19 together with two syrian drumplayers, 1 iranian drummer, 1 irakian Oud-player and a german singer to play there as an Ensemble.
The ensembles of all musicians of this event will contain all kinds of musicstyles, starting from experimental compositions, passing traditional arabic or "World"-Music up to modern Popmusic. For anyones taste there will be music beeing offered. The Project "bridges" and it´s musicians gladly appreciate your visit.
On january 26th at 19.30 p.m. will be seen a first glimbse of this intercultural project presented in the "Hessenschau" on german hr3-TV.
The one who wants to read more about the project may read more information right here: http://www.bridges-musikverbindet.de/