Busato-Guitars, almost same to the rare Selmer-/Maccaferri-Guitars, are the most expensive and sought after Gypsyjazz-Guitars worldwide due to their unique sound and making.
The "Busato"-Guitars were named after their maker Bartolo Barnabe "Pablo" Busato (BB) (see Busato-history), and were one of the first acoustic Jazzguitars that have been copied or better to say were kind of "strongly inspired" by the famous Selmer-Guitars.
In the further article(s) of the Busato-series we focus and briefly describe the details and features of original Busato-Guitars with exact description and images. Be sure to also read the articles about the Busato-history and Features of original Busato-Guitars.
Bartolo Barnabe "Pablo" Busato, born 1902 in Chiuppano (Italy) began buildig guitars around 1925 and worked until shortly before his death in 1960. Busato had two daughters and one son and probably some relatives are still alive in Italy.
Many people thought that Busato already died in 1952, but he sigened his last known guitars around 1958. Bartolo Busato died on 4th of July 1960 in Champigny sur Marne/France.
Despite many thinking just about Busato guitars it is to mention that Busato produced many different instruments in his workshops, such as mandolins, drums, basses and accordeons (also see article History – Busato).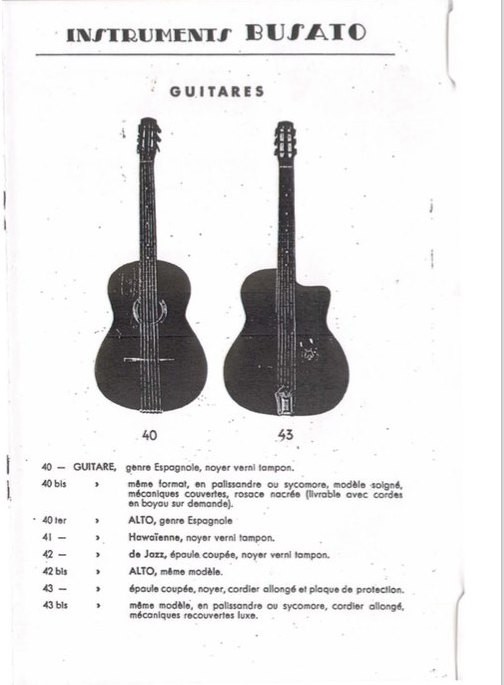 Busato-Guitars have, like the famous Selmer-Guitars which were first on the market, a very special sound signature.
Especially some features of their making have this special influence, and are of course of great interest, which we will be showing and investigating more detailed in our article-series Features of original Busato-Guitars.
Here we show you the main features for a first glimbse:
• Busatos braces are usually pointy (triangle) or have a triangle shape with a flat top.
• like many vintage gypsy guitars, Busatos have a thick top of 125 thousand of an inch and are braced underneath with 3 top braces.
• some Busato´s do often have some irregularities at the lower bout level, due to worn moulds. Interesting enough you might find the same kind of features on other guitars made by Busato under different synonymes like "Sonora", "Symphonia", "Beuscher" and "Paris Musicals", as on some guitars which were made without Label but still were beeing produced in his workshops too.
• on many Busatos the sound hole (rosacea) is reinforced below the top with a thin wooden layer or made with even beautifully (pearl) inlays.
• the backsides are mainly strongly arched and remind to beeing prototypes of Archtop-Guitars.
• the top instead is rather less arched than usually Gypsyguitars are regularely
• often their tops were made out of serveral pieces of wood (maybe due to lack of material in the war times)
• the "moustaches" of the bridges have a special Form
More details on Busato and his Instruments in the 2. part of this article-series Busato-History and in Features of original Busato-Guitars.
• most necks of "Grand Modele" Busatos are three-piece necks with an inlay of ebony
• in the first years the necks were often made from Tinted pear wood, later on they changed it to Rosewood with an ebony fretboard
• the necks were simply glued into the Bodyblock
• the sides often weren´t very strong made due to only 2 layers of laminated wood, against usually 3 layers with most other old Gypsyjazz-Guitars
• many of the guitars made by Busato weren´t really "perfect made", better to say they had many small mistakes or wrinkles
• often the Neckjoints weren´t really clean made, not middle adjusted to the bodyline, today one would say "badly crafted"
• some headplates were slightly longer than the ones of other guitars of the same model
• many Busatos were not really "beautiful looking" with, a lot of guitar tops are not very beautiful, some are pretty ugly with super wide and irregular grain patterns in the spruce, some even made from cheap rough pinewood
Even if these facts are real, the Busato-guitars still have "that special something" and convince with their special sound image.
Although many other luthiers have tried to lift the secrets of Busato-Guitars in the past, some have made some real effort in building nice guitars, but still never made it sound like a real Busato, thus beeing way more far away from beeing the real thing. Some (like Dupont) even just own the name and use it, still their instruments are worlds apart from a real Busato. There is just one luthier from Israel, Eddi Polak (www.polak-gypsyguitars.com), who really came very close in building a Gypsyguitar with a sound, look and feel nearly close to Busatos, that in 2016 came up under the name of "Model Bertino" (tobacco and maple series).
Bernabe Bartolo Busato produced Guitars since 1925 until the late 1950ies. There are truely not many informations about Busato and his workshops. Even long time it was doubted that there even had been a person called "Busato" at all or if there was really a workshop at all, as there were different adresses he resided in and a couple different workshops worked with his name as well.
Meanwhile it is known that these different adresses, were Busato used to work in, really existed. There was one of his workshops at the Rue Orgemont from 1934-1943 and later on another second one at the Cite Griset No.4 inside the 11th District in Paris were Busato ran has workshops.
His first adress that was documented from 1926 was in the Rue de Chaligny 34, within the 12th District in Paris. Since 1934 until 1943 he had one workshop in the Rue d'Orgemont 40 inside the 20th District in Paris.
In the year 1943 he opened up a musicstore with the name "Everything for Music" directly on the Boulevard de Ménilmontant 140, also located in the 20th Parisian District. At the end of 1943 he changed place with his workshop from the Rue d'Orgemont into the Cité Griset 4 inside the 11th Parisian Arrondissement. Additionally in 1945 Busato opened another production-workshop in the Avenue de Coeuilly 73 in Champigny sur Marne, outside of Paris.
In the beginning he had employed around 20-30 workers and guitarmakers, in the best years he even had up to 60(!) persons which made all kinds of instruments for him in his different workshops.
Many people dont know that but at the same time Busato built guitars he also made other instruments like Mandolins, Banjos and Upright-Basses that he mostly let make at his own workshops by his co-workers. There were even Busato-Akkordeons that have possibly been made on his order from another company (Castagnolo or Fratelli Crosio), but which have been sold under his name in his workshops and musicstore. These instruments really existed which is certain today. Busato died in Paris 1960.
Until his death Busato had trained many famous guitarmakers amongst them Jacques Favino, Siro Burgassi and Gino Papiri or Pierre Anastasio, all guys that have been under his staff that worked for him in the first years until they started their own businesses in later years.
Alike the famous Selmer- and Favino-Guitars and because of the rarity and demand of these guitars there are always "Busato"-instruments beeing "faked" and put on the market for expensive prices. Be sure to read our articles about "Features of original Busato-Guitars" and "Fake Busatos" were we put down all most important and known facts about these great guitars, with an example of a faked Busato-guitar wich has been offered on the internet shortly.
Share this article: