JM-Playtechnique – The technique of playing Gypsyjazz differs from usual guitarplaying in many aspects.
Of course this is due to the great influence of Django Reinhardt, the most famous Gypsy-Guitarrist worldwide, until today.
His playing left the deepest footprints in this first and only unique european Jazz-style, forcing even todays Gypsy-guitarplayers to adapt what the great master had done before…
Beeing burnt very heavily on his left bodyside by the accident of his burning caravan (see Django Reinhardt – the Guitar-Maestro), Django was left over with a nearly crippled left-hand (image below right). Due to this disability his playing had to change dramatically and thru this it became so very special.
Django Reinhardt had to change the way of playing scales or chords and arpeggios, resulting in a very special and unique playing-technique that has been copied from legions of players ever since (take a look at Django Reinhardt – the Guitar-Maestro).
By his hurting left-hand disablity he wasn´t able to almost move his pinky anymore, his ringfinger could barely move for the use of chords the same without hurting.
Because of that Django started to create his own special voicings, his way of playing chord-shapes of mainly reduced "three-note-chords".
Many of these chord-voicings that have been invented by Django Reinhardt reducing the six possible notes on the fretboard to basically three fingers (or notes), mainly on the deeper bass-strings of the guitar (Example-image left is a Minor6-Chord in the typical chordshape).
The many Gypsy-musicians of his heritage after copied this special way of playing chords. In the same as the way he used to play scales mainly with just two(!) fingers, which has been copied all the same by many players afterwhat.
This is how these typical chordshapes were invented. Additionally beeing played very rhythmically forming this special sound-characteristics of JazzManouche. But not only for playing chords but the soloing was influenced by his way of playing abilities the same.
The famous guitar-solos that Django Reinhardt used to play, but all the same brandnew ways for creating musical accompanging. Things like kind of "sound-carpets" with long lasting eight-note-chains of single-note arpeggios – all that was completely new and unheared before his appearance.
Django Reinhardt´s unique way of playing melodies, his incredible musicality and feel, precise timing and also incredibly great creativity made this made so outstanding, leaving his deepest imprints of his playing in the style of JazzManouche until today.
So due to his physical disabilities many scales had to be played different for him to be able to play them. Finally he invented the horizontal playing for himself, beeing able to play scales with two healthy fingers.
Some of these playing-techniques are also subject of my "Masterclass for Gypsyjazzguitar" and featured in my methodbook "Gypsyjazz Guitar – A tribute to gypsyjazz" (released 2011 with the international distributor Alfred Music, Cologne in german and 2013 in english).
For decades many, many guitarrists (like John McLaughlin, Al Di Meola, Joe Pass, George Benson a.o.m.) up to this day define Django Reinhardt – the Guitar-Maestro as beeing one of their biggest personal influences ever and THE source of inspiration of their own playing.
And so even today Django Reinhardt remains still as a great idol and beeing worshipped until this day.
Every guitarrist who ever tried to get near his style of playing, working with his special and unique ways of playing will adress that surely and have great respect for this outstanding musician!
Here you may read more about the -> JM-Rhythm – La Pompe or the -> JM-Solotechniques, you may download the -> JM-Chord-Lexicon or checkout our -> JM-Scales-Book and the -> "The REAL Gypsyjazz book" to learn new chords, scales and tunes, as well as read informations about our -> LIVE-Workshop "Modular Gypsyjazz Guitar" or how to book it online.

ADVERTISING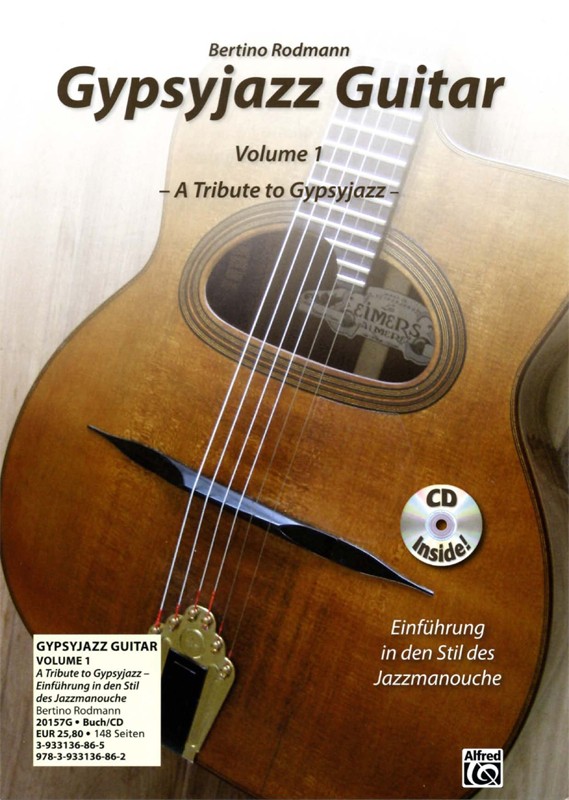 "Gypsyjazz Guitar – a tribute to Gypsyjazz"
Gypsy-Jazz bzw. Jazz-Manouche ist der erste in Europa entstandene Jazzstil.
Seine Einflüsse kommen aus dem französischen Musette-Walzer, dem ungarischen Çsardas oder dem spanischen Flamenco, sowie der Sinti-Musik selbst, die von den Sinti-Musikern in Swing-Phrasierung interpretiert wurde.
Ziel des Buches: Nicht nur eine umfassende Gitarrenschule für Gypsy-Jazz Gitarre zu verfassen, die die rhythmischen und solistischen Aspekte der Gypsyjazz Gitarren-Spielweise vermittelt, sondern auch den Respekt gegenüber der uralten Tradition der Sinti.
Inhalt Teil 1: Rhythm Guitar: Comping, La Pompe-Rhythmus, Dead Notes, Gypsychords, Voicings, Blues-Kadenz, Chord Substitution
Inhalt Teil 2: Solo Guitar: Reststroke Picking, Arpeggio Picking, Sweptstroke Picking, Skalen, Arpeggien, Solo Licks
Verlag: Alfred Music Publishing GmbH; Auflage: 1 (15. Oktober 2011)
Sprachen: Deutsch / English ISBN-10: 3933136865 – ISBN-13: 978-3933136862
148 Seiten, mit Play-alongs und Noten & Tabulatur + Audio-CD Preis: 25,80
Erhältlich bei Amazon, Alfred Verlag oder www.bertino-guitarrist.com