The new eBook: JM-Arpeggio-Book is here!
Arpeggios, what is that?
An Arpeggio (plural "Arpeggios", greek for: Arpa, the harp) easily spoken is a "broken chord".
A chord which is beeing played "like a harp" or in other words "note-by-note".

As most of us know, chords basically are built from intervals of the scales of our tonal system. These mainly are the so called "major or minor triads" we all know, built from the 1., 3. and 5. degree of the scale, which builds the "basic"-chords. Chord example: C, E, G = C-Major.

The so called "extended chords", which contain more added intervals to those basic three intervals, for example such as additional sixths, sevenths or ninths, thus they contain some more single intervals or even a combination of some of them (see also the JM-Chord-Lexicon, page 4-12).

While a chord normally is beeing played "as one" (e.g. strumming all of it ́s contained notes at once), in comparison an Arpeggio of the same chord will be broken down into all of it ́s intervals "one-by-one" beeing played one after another. This way again it is "broken up" into single notes, thus building a kind of melody.

Originally Arpeggios (like bends, thrillers or other musical variations) in staff notation belonged to the musical ornaments, that weren´t defined by composers in first place in their notations, but more or less left over to the musical taste and inspiration of any interpreting musicians.
One of the first guitarrists in modern music who heavily used Arpeggios in his improvisations has been the famous french-belgian gypsy guitarrist Django Reinhardt (image right).
As a great fan of classical music that he was, Django admired the great classical composers such as J.S. Bach, Ludwig van Beethoven or Claude Debussy.
Django Reinhardt strongly admired them and listened to all these composers very often, especially to Johann Sebastian Bach (who already intensively used Arpeggios in his early compositions for guitar). That´s why Django may have started to "copy" or "imitate" these playing techniques, using them in his own way of playing Gypsy-Jazz or Jazz-Manouche, which still is strongly influenced by his playing style until today.

Django quickly realized that while using a little training Arpeggios are a great tool that could be used and played very fast and effective, and could even be used on longer passages in improvisations or also while accompaning…
Django Reinhardt used Arpeggios in nearly all of his improvisations in one way or another. He also discovered his own picking-technique especially for Arpeggios, thus creating a very unique kind of playing Arpeggios (see "Gypsyjazz Guitar – A tribute to Gypsyjazz", page 78).
Here in the JM-Arpeggio Book i show you different Arpeggios, starting off with "easy" Major- and Minor-Arpeggios, extended Arpeggios on Major7-, Dominant7-, Minor6- and Minor7-, as well as Minor9- and Disminished-Arpeggios and to sum it up at the end with some exotic Variations of Arpeggios.
Contents "JM-Arpeggio Book"
"simple" Major- and Minor-Arpeggios
extended Arpeggios
Major7-Arpeggios
Dominant7-Arpeggios
Minor6-Arpeggios
Minor7-Arpeggios
Minor9-Arpeggios
Disminished-Arpeggios
Exotic variations of Arpeggios
In all chapters inside this eBook you´ll find examples on how to use Arpeggios while improvising with practical approach. The "JM-Arpeggio Book" has 35 pages with staff notation as well as TABs and is available for only 16,90€ (as download)
What are you waiting for? Get your copy today and pimp up your Arpeggio playing!
Click here to get your copy of the JM-Arpeggio Book available for only 16,90€ (as download)
(You will be redirected to our partnersite www.gypsyjazzworkshop.net for download)
---
ADVERTISING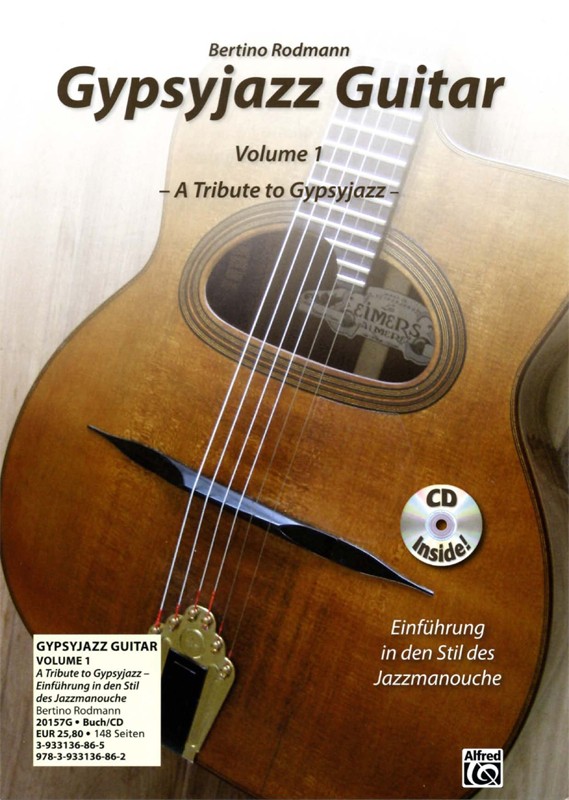 "Gypsyjazz Guitar – a tribute to Gypsyjazz"
Gypsy-Jazz bzw. Jazz-Manouche ist der erste in Europa entstandene Jazzstil.
Seine Einflüsse kommen aus dem französischen Musette-Walzer, dem ungarischen Çsardas oder dem spanischen Flamenco, sowie der Sinti-Musik selbst, die von den Sinti-Musikern in Swing-Phrasierung interpretiert wurde.
Ziel des Buches: Nicht nur eine umfassende Gitarrenschule für Gypsy-Jazz Gitarre zu verfassen, die die rhythmischen und solistischen Aspekte der Gypsyjazz Gitarren-Spielweise vermittelt, sondern auch den Respekt gegenüber der uralten Tradition der Sinti.
Inhalt Teil 1: Rhythm Guitar: Comping, La Pompe-Rhythmus, Dead Notes, Gypsychords, Voicings, Blues-Kadenz, Chord Substitution
Inhalt Teil 2: Solo Guitar: Reststroke Picking, Arpeggio Picking, Sweptstroke Picking, Skalen, Arpeggien, Solo Licks
Verlag: Alfred Music Publishing GmbH; Auflage: 1 (15. Oktober 2011)
Sprachen: Deutsch / English ISBN-10: 3933136865 – ISBN-13: 978-3933136862
148 Seiten, mit Play-alongs und Noten & Tabulatur + Audio-CD Preis: 25,80
Erhältlich bei Amazon, Alfred Verlag oder www.bertino-guitarrist.com
---
Share this article: