Django Reinhardt – private Life (6/6)
Django Reinhardt – private Life (6/6) – In 1951 Charles Delauney begins with the preparations for an other USA-tour. He wants to bring together famous musicians like Louis Armstrong and Benny Goodman with Django and make a tour first through the USA together with them.
Also a European-tour and even a world-tour is under discussion. However this does not work out any more. Many unforeseen delays and problems render a realisation of any tour difficult to impossible.
On morning of the 16th of May 1953 Django goes into his favorite café at the Place de Marché in Samois.
He plays, as usual, a part of Billiard (picture on the right), drinks his café and talks to friends. However, on that day he complains about strong headaches and then soon leaves off to go home again.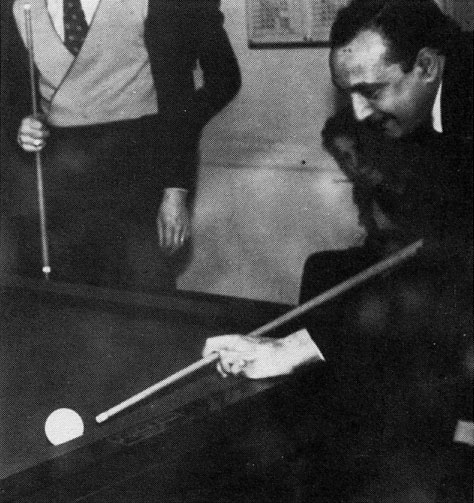 Home returned he just breaks down with a stroke…
Django emediately is brought to the hospital of Fontainebleau by an ambulance. There Django Reinhardt, just 43 years old, dies on the evening on 16th of May 1953 by result of a brain haemorrhage. His death is as his life and his playing: fast and furious.
One of the greatest guitarists of the world, an innovator, virtuoso and vast source of inspiration, one that will influence generations of the following guitarists, is dead.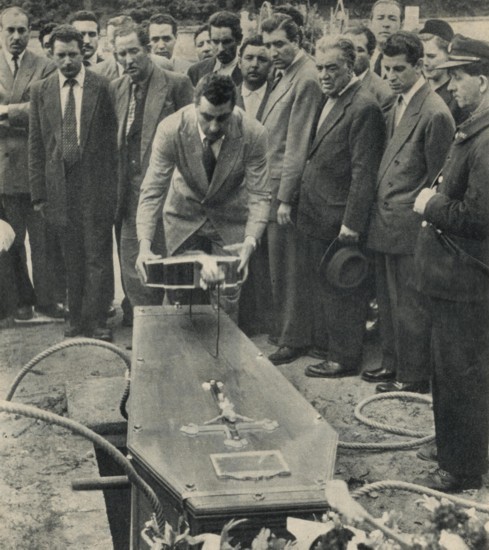 His burial ceremony is filled with hundreds of friends, many of his fans, admirers and admirers to come. Since that day his grave has become a sort of "place of pilgrimage" for many lovers of his music.
However, unfortunately, that didn´t avoid already desecration of his grave. Originally at his funeral his brother Joseph "Nin-Nin" Reinhardt had added a guitar as a grave addition on the gravestone (picture above left), which has been stolen by strangers, in the meantime. It was replaced by a guitar made out of stone (image abaove right) in the meantime.

Many generations of guitarists called and also still even today call Django Reinhardt as one of their biggest sources of musical inspiration. Amongst them many different famous jazz- and rock guitarists are to be found as for example:

Charly Christian, Barney Kessel, Les Paul, Chet Atkins, John McLaughlin, Carlos Santana, Eric Clapton, Gary Moore, Wes Montgomery, Joe Pass, Hänns´che Weiss, Moreno Winterstein – as of course all of todays Sintiguitarrists such as Stochelo Rosenberg, Bireli Lagrene, Dorado Schmitt, Tschavolo Schmitt, David Reinhardt, Noe Reinhardt, Romane and many, many others more.

And thus Django´s heritage is still alive until today, and even more today, in a real active JazzManouche-community worldwide.
Read more -> Django Reinhardt – the Painter