The eBook " JM-Scales-book " focusses on scales in musical content.
If we talk about any kind of musical content, we also have to chat about scales as well.
In music theory, scales are defined as "any set of musical notes ordered by fundamental frequency or pitch" (Source: Wikipedia).
A scale ordered by increasing pitch is an "ascending scale", and a scale ordered by decreasing pitch is called "descending scale". Some scales may contain different pitches when ascending than when descending.

(Quelle: Wikipedia)
Scales are something like the "musical base content" or essence of any kind of music-style. Any chord, any kind of melody is defined by it wether if we talk about todays Pop-, Rock-, Jazz-, Dance-music, Classical-music or whatever kind of music-style…maybe just not within "Free-Jazz" 😉
That said it is pretty clear why as a musician and especially as a (Gypsyjazz-)guitar-player it is very important to build up an intense knowledge about scales, thus to be able to understand and use it´s contents in any kind of musical situation. But how?
Here the new "JM-Scales-book" now comes in handy for learning all the nessesary infos on scales, especially the ones that are useful for "Jazz-Manouche" or Gypsyjazz".
This new eBook (available only for download) contains 20+ scales, explaining the standards like basic major- or minor-scales as well as many altered-, (half-)disminished-, bebop-, mixolydian-, super or ultra locrian scales.

The book will then finally end up with all kinds of more exotical-scales that nevertheless may also make sense of beeing used in (Gypsy-)Jazz, such as the general Gypsy-minor- or the spanish Gypsy-scale, the hungarian major and – minor-scale, the romanian minor-Scale as well as the pure oriental- scale or the wholetone-scale. Everything is precisely explained and documented with images of every scale mentioned, showing all contained intervals.
Get your copy today! the eBook (pdf-Format) is available as download for only 19,90€.
(You will be redirected to our external Partnersite www.gypsyjazzworkshop.net)
Contents of the eBook:
Introduction
Major-Scales
Natural major Scale
Natural pentatonic-major-Scale
"Bebop"-major-Scale
Moll Skalen
natural minor-Scale
pentatonic-minor-Scale
"Blues"-Scale
Altered variations of natural Scales
harmonic minor-Scale
melodic minor-Scale
melodic minor-Scale (ascending)
melodic minor-Scale (decending)
melodic minor-"Bebop"-Scale
mixolydian-Skala
mixolydian-altered-(Bebop)-Skala
half-disminished-Skala
disminished-Skala
chromatic Skalen
Exotic and other variations of Scales
the "Gypsy"-major-Scale
the "Gypsy"-minor-Scale
hungarian major-Scale
hungarian-/persian-Gypsy-Scale
spanish "Gypsy"-Scales
romanian minor-Scales
oriental Scale
ultra-locrian-Scale
wholetone-Scale
Epilogue
Get your copy today! the eBook (pdf-Format) is available as download for only 19,90€.
(You will be redirected to our external Partnersite www.gypsyjazzworkshop.net)
---
ADVERTISING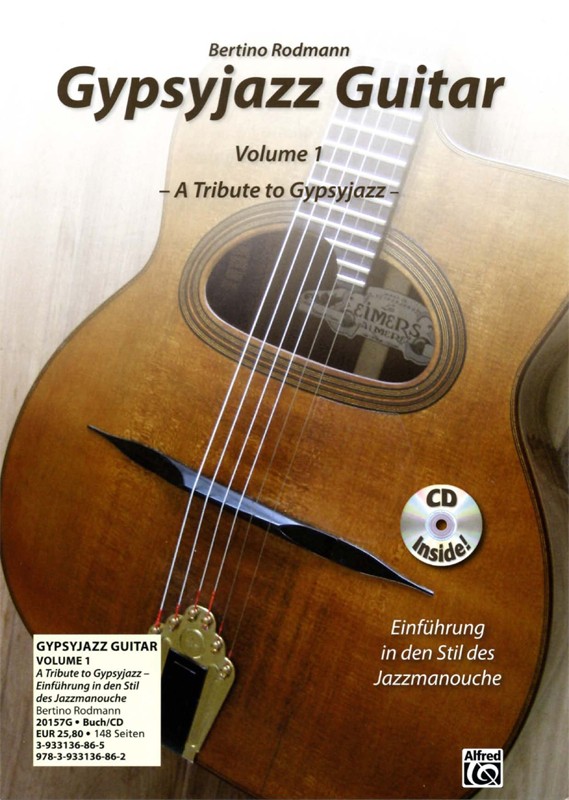 "Gypsyjazz Guitar – a tribute to Gypsyjazz"
Gypsy-Jazz bzw. Jazz-Manouche ist der erste in Europa entstandene Jazzstil.
Seine Einflüsse kommen aus dem französischen Musette-Walzer, dem ungarischen Çsardas oder dem spanischen Flamenco, sowie der Sinti-Musik selbst, die von den Sinti-Musikern in Swing-Phrasierung interpretiert wurde.
Ziel des Buches: Nicht nur eine umfassende Gitarrenschule für Gypsy-Jazz Gitarre zu verfassen, die die rhythmischen und solistischen Aspekte der Gypsyjazz Gitarren-Spielweise vermittelt, sondern auch den Respekt gegenüber der uralten Tradition der Sinti.
Inhalt Teil 1: Rhythm Guitar: Comping, La Pompe-Rhythmus, Dead Notes, Gypsychords, Voicings, Blues-Kadenz, Chord Substitution
Inhalt Teil 2: Solo Guitar: Reststroke Picking, Arpeggio Picking, Sweptstroke Picking, Skalen, Arpeggien, Solo Licks
Verlag: Alfred Music Publishing GmbH; Auflage: 1 (15. Oktober 2011)
Sprachen: Deutsch / English ISBN-10: 3933136865 – ISBN-13: 978-3933136862
148 Seiten, mit Play-alongs und Noten & Tabulatur + Audio-CD Preis: 25,80
Erhältlich bei Amazon, Alfred Verlag oder www.bertino-guitarrist.com
Share this article: