Quintette du Hot Club de France
The "Quintette du Hot Club de France" (founded by Charles Delauney) in 1933 in Paris/France by Jazz-historics has been considered as one of the most successful, european Jazzbands ever.
The Band started with some Jam-sessions, which took place between their sets in the Hotel Claridge (37 Rue Francois, 1er Arr.) in Paris, around 1932/33.
Stéphane Grappelli joined them one day and the swing music connected the two musicians emediately. Das "Quintette du Hot Club de France" (QHCF) was born, it was the year 1932.
Stéphane Grappelli, Django Reinhardt, Eugene Vees and Louis Vola used to play together as a "dancing-band" in these days, entertaining the guests of the hotel. In the breaks between their sets they always used to jam on their beloved Jazz-tunes of that time in one of the backrooms of the hotel.
One day in the end of 1932 Pierre Nourry and Charles Delaunay (photo right), both organizers of the french Jazz-association "Hot Club de Jazz", whitnessed one of these sessions and were absolutely flabbergasted.
They emediately organized the first recording-sessions for the Label "Ultraphone" in Dezember 1934.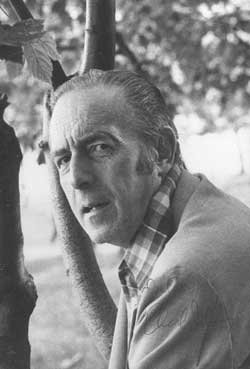 To quickly find a name Delauney suggested just to call it "Quintette du Hot Club de France", regarding to the name of their association. So the "Quintette du Hot Club de France" was founded. The band became famous all over europe as of their records as well as their LIVE-performances.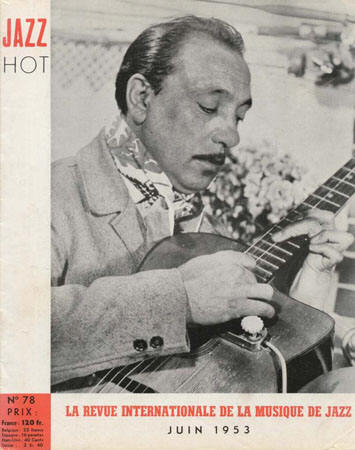 Charles Delaunay was to become their biggest fan, mentor and sponsor as well as later on the manager of Django Reinhardt and the "Quintette du Hot Club de France" for long years.
Delaunay organized concerts, published a small clubmagazine named "Jazz Hot" (image left) and financed the first recordings of the Quintette.
When in 1939 the 2. worldwar was about to start the Band broke up. The Quintette was booked for a tour in Great-Brittain and already played a couple of gigs in London, when the news of the starting war came in.
Django Reinhardt wanted to return to his family in Paris emediately, while Stéphane Grappelli decided to stay in London. So the band split up and Django went back to Paris.
The two just met again after the end of the war in 1946 and recorded again some more records, until they split up again in 1949 for good. They both had changed … as the sound the played.
Meanwhile Django Reinhardt was more interested on the more "modern" Sound of Bebop-Jazz and Bigband-Arrangements, which slowly became hip these days.
He started to experiment with that sound and played with some "Quintette du Hot Club de France"-setups with Clarinette and also Saxophone in the following years. Django even tried some Bigband-excursions around 1946/47 with a few Concerts and recordings (Record "LIVE in Brussels, 1947").
Finally in 1949 he follows an invitation for a USA-Tour with the Duke Ellington-Orchestra (for more see Django – the Guitar-Maestro)
---
ADVERTISING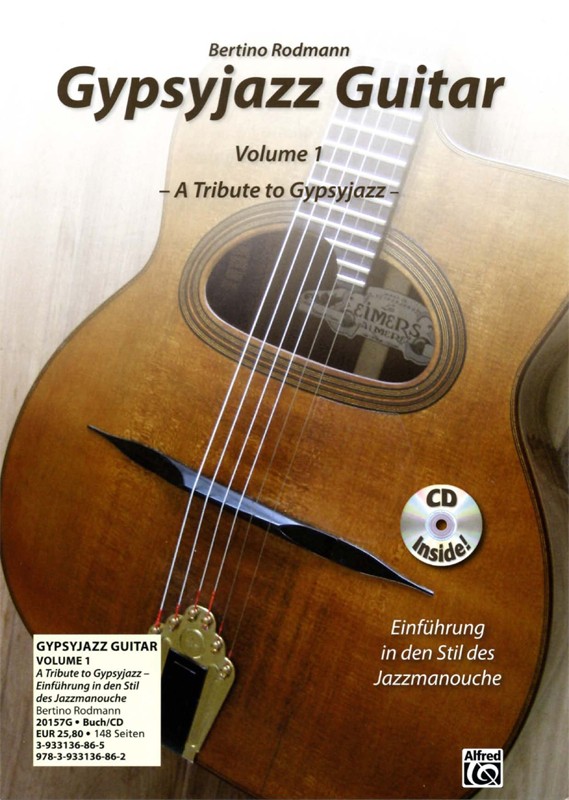 "Gypsyjazz Guitar – a tribute to Gypsyjazz"
Gypsy-Jazz bzw. Jazz-Manouche ist der erste in Europa entstandene Jazzstil.
Seine Einflüsse kommen aus dem französischen Musette-Walzer, dem ungarischen Çsardas oder dem spanischen Flamenco, sowie der Sinti-Musik selbst, die von den Sinti-Musikern in Swing-Phrasierung interpretiert wurde.
Ziel des Buches: Nicht nur eine umfassende Gitarrenschule für Gypsy-Jazz Gitarre zu verfassen, die die rhythmischen und solistischen Aspekte der Gypsyjazz Gitarren-Spielweise vermittelt, sondern auch den Respekt gegenüber der uralten Tradition der Sinti.
Inhalt Teil 1: Rhythm Guitar: Comping, La Pompe-Rhythmus, Dead Notes, Gypsychords, Voicings, Blues-Kadenz, Chord Substitution
Inhalt Teil 2: Solo Guitar: Reststroke Picking, Arpeggio Picking, Sweptstroke Picking, Skalen, Arpeggien, Solo Licks
Verlag: Alfred Music Publishing GmbH; Auflage: 1 (15. Oktober 2011)
Sprachen: Deutsch / English ISBN-10: 3933136865 – ISBN-13: 978-3933136862
148 Seiten, mit Play-alongs und Noten & Tabulatur + Audio-CD Preis: 25,80
Erhältlich bei Amazon, Alfred Verlag oder www.bertino-guitarrist.com
---
Share this article: