How to Improvise (2/3) – Some thoughts on Improvisation
So as mentioned earlier there are (or should be!) four steps in the developement of every musician like Jazzlegend Clarke Terry already said in 1954:
Imitate
Assimilate
Create,
Innovate
As improvisation in the end is nothing else then the "spontaneous composition of music", it should nevertheless soon as possible grow beyond the pure re-production and lead us to new shores of creation. Moreover all these four phases belong together: to copy and assimilate, to understand and to practise the copied contents, as well as creating new contents out of it and in best case in the end there will be innovation…
Imitiation
While imitating (a musicstyle, a play technique, a melody or any kind of musical contents) a musician just purely takes over what somebody else had been doing before.
Mostly this is been done without any comment or critics on it and very often, also without a real understanding of what someone else has been playing before, so any contents will just be copied and covered – what has been the expression of another person or musician beforeThis first and very important step in (not only musical) learning is as old as human beeing is. One hears something, takes it up and copies it.

Unfortunately, many musicians already seem to stop with this first step of musical development and limit themselves to pure, almost mechanical repetition of given contents.
Assimilation
Well if one has really understood the content that has been imitated and copied in the first step (for example because it has repeatedly being practised and exercised so the musician knows it inside out), then one starts to assimilate the musical contents.
These things will soon start beginning beeing a part of myself as i may easily reproduce or quote it anytime in my playing without any problem.
As soon as we have come this far as a musician there will eventually be creation in the next step: one begins developing new things out of the learned contents, starting to compose new musical contents out of it.
But a strong portion of courage belongs to this. Not to give up courage to the risk and still have courage also before the possible failure. Since to create the New indicates also to make mistakes. Probably the nicest melodies them exist have mostly originated from real mistakes. Or as great Miles Davis once said: "… don´t fear any mistakes – there are none …"
Creation
This step is one of the most protracted in the musical development of a musician and, if it comes to the worst, may last a lifelong. The process of creating something new from something one has learnt somewhere else before, is a very complex one and naturally works out differently with every person.
Some musicians just "play" around a bit with the sound-material they´ve learned (copied or imitated) before and thus find new inspiration by that for new own sound-creations of melodies or chord-changes.
Other musicians may have a more scientifical approach to work music, they like to anylize or even dissect the complete sound-material they´ve learned, break it down into the exact inner contents and structures and create something new this way by arranging it newly in another "mathematical" arrangement.

However, in the end, the two ways differ only from the different approaches to the sound-material. The result, finally is the same one: it originates new from the old, new creation from the old learnt and copied musical contents has been done.

Because some musical contents (according to music-style) can be very complicated this may possibly be a very long way there, as the sound material used in our western music with its 12-note-structure though may be relatively limited – as in truth the possible combinations are nearly boundless. Due to this fact this step very often may also last very long in a musicians life.
Innovation
If a musician has been intensely developing all these three steps in time – the steps of imitation, assimiliation and creation in the most ideal case there also might be a fourth step: the innovation.
Innovation that might come from the newly created contents that a musician has created from the three steps before, which will ideally inspire others to again copy (imitate) the musical contents created by this musician beforehand, assimilate it, create from it … and so on – there originates innovation.
All these ingredients a real creative musician should take in account during his musical life of creation, to understand where good music originates from, as Improvisation in the end is as well…
Django Reinhardt never did that but steadily always went on searching and developing new inspirations.
So let´s take it seriously or as Lulo Reinhardt, Django´s german grandnefew had spoke out once in a very true quote: "Django sits up there on his cloud watching at us guitarrists and sais: play something else…!"

(How to Improvise – some thoughts on Improvisation by Bertino Rodmann ©2013)
In Part 3 of our series on improvisation you find a great and intensive Interview with Blues- and Jazzguitarrist Sonny Sharrock on the issue of improvisation, which perfectly fits in miraculous manner. Maybe partly with drastic words, however very true words, he exactly points out on how any musician should care about not to step into a real musically deadly trap: pausing in crusted structures and the endless imitatition of other known musician (e.g. Django Reinhardt or else).
Read more – How to improvise (3/3)
How to Improvise (2/3) - Some thoughts on Improvisation So as mentioned earlier there are (or should be!) four steps in the developement of every musician like Jazzlegend Clarke Terry already said in 1954: Imitate...
Read More
How to improvise (3/3) - Some thoughts on Improvisation Here we present an interesting Interview with Sonny Sharrock on Improvisation and Innovation. Sonny Sharrock on Improvisation Sonny Sharrock talking on different types of improvisers, the...
Read More
---
ADVERTISING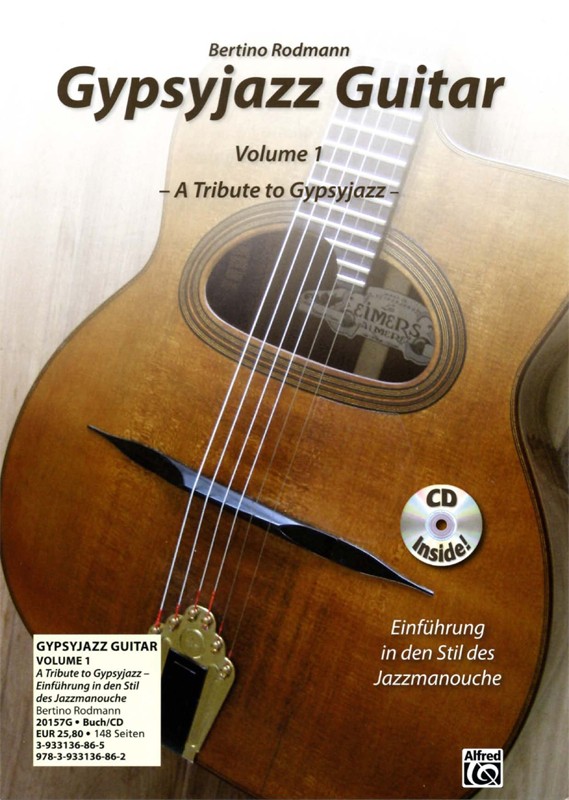 "Gypsyjazz Guitar – a tribute to Gypsyjazz"
Gypsy-Jazz bzw. Jazz-Manouche ist der erste in Europa entstandene Jazzstil.
Seine Einflüsse kommen aus dem französischen Musette-Walzer, dem ungarischen Çsardas oder dem spanischen Flamenco, sowie der Sinti-Musik selbst, die von den Sinti-Musikern in Swing-Phrasierung interpretiert wurde.
Ziel des Buches: Nicht nur eine umfassende Gitarrenschule für Gypsy-Jazz Gitarre zu verfassen, die die rhythmischen und solistischen Aspekte der Gypsyjazz Gitarren-Spielweise vermittelt, sondern auch den Respekt gegenüber der uralten Tradition der Sinti.
Inhalt Teil 1: Rhythm Guitar: Comping, La Pompe-Rhythmus, Dead Notes, Gypsychords, Voicings, Blues-Kadenz, Chord Substitution
Inhalt Teil 2: Solo Guitar: Reststroke Picking, Arpeggio Picking, Sweptstroke Picking, Skalen, Arpeggien, Solo Licks
Verlag: Alfred Music Publishing GmbH; Auflage: 1 (15. Oktober 2011)
Sprachen: Deutsch / English ISBN-10: 3933136865 – ISBN-13: 978-3933136862
148 Seiten, mit Play-alongs und Noten & Tabulatur + Audio-CD Preis: 25,80
Erhältlich bei Amazon, Alfred Verlag oder www.bertino-guitarrist.com
---
Share this article: