Rhythm – La Pompe
The accompaning-Rhythm of Gypsyjazz created and invented in France in the early 1920/30ies is called "La Pompe" (french – pompe = to pump, to press).
This Rhythm has been strongly influenced by players like the younger brother of Django Reinhardt named Joseph "Nin-Nin" Reinhardt (image right), but as well by the regularely playing Rhythm-Guitarrists that used to work with Django and the Quintette in these years like for example Roger Chaput, Eugene Vees or Henri Crolla.

Later on there where also other famous guitarrists like the brothers Matelot, Sarrane, Maurice or Baro Ferré who left their footprints by developing the rhythm playing with the Quintette as well. And until today the rhythm "La Pompe" is still beeing developed by many different players creating all new kinds of colours and shades.et
Modern players like the young guitarrists Sebastien Giniaux or Adrien Moignard of the Band "Selmer #607" are playing a different Pompe, using other accents as for example Tschavolo Schmitt or Bireli Lagrene. And the rhythm is again differently beeing played by the netherland or "nordic" players like the brothers Mozes, Nousche and Stochelo Rosenberg.

Many (false) things have already been written about the "Pompe" in some methodbooks, as well as it is to be seen on Youtube – sometimes by people who themselfes dont know how to play a "swinging" accompanying, but still try to explain to others "how it´s really been done".
But someone who is just starting to play this music regrettably cannot distinguish the right from wrong explanations, lessons or books, telling which workshop might be ok or not stating the right stuff. And some stuff out there is just redicolous!

As we already did mention before in some articles on our website one should take a little care with these kind of "so called" fundamentally correct Gypsyjazz-Workshops (Example: "Play-Django-in-5-Minutes" or "How-to-play-Django-Style").
Better to join a real LIVE-Workshop, even spending some money for it, with someone who knows how to play and explain right, instead of using wrongly thought dubios Workshops … taking it for real just because it´s for free … but just a little sidestep, let´s go back to the La-Pompe-Rhythm.
Here you see an "easy example" of a first step to learn the "Pompe"-Rhythm (excerpt from my methodbook "Gypsyjazz Guitar" released in autumn 2011)

As you can see, the rhythm is made up by a first short sounding 16th-beat, followed by a pointed eigth-pause and another second short hit (quarter note) as a so called "Dead-Note", without sound. The emphasis in the rhythm generally has to be played on the second(!) beat, which means on the quarter-deadnotes.
It is crucial, as mentioned by Stochelo Rosenberg in one of his Workshops, to hit ALL the strings with the pick while stroking!
Of course this knowledge doesnt help you alone to play a cool, swinging La Pompe. But it is as the Duke once said: it don´t mean a thing if it ain´t got that swing…

The one who is interested to dive deeper into the correct playing of that rhythm might take a look at our examples here on the page as well as to my LIVE-workshop "Masterclass for Gypsyjazzguitar", where this rhythm is goin to be explained with additional picking-techniques as well as the Soloplaying with many examples. Or one might take a closer look at my methodbook "Gypsyjazz Guitar" released by Alfred Music publishing (Cologne) where you may read a step-by-step-instruction to learn this rhythm.

Read more -> JM-Solotechnique
---
ADVERTISING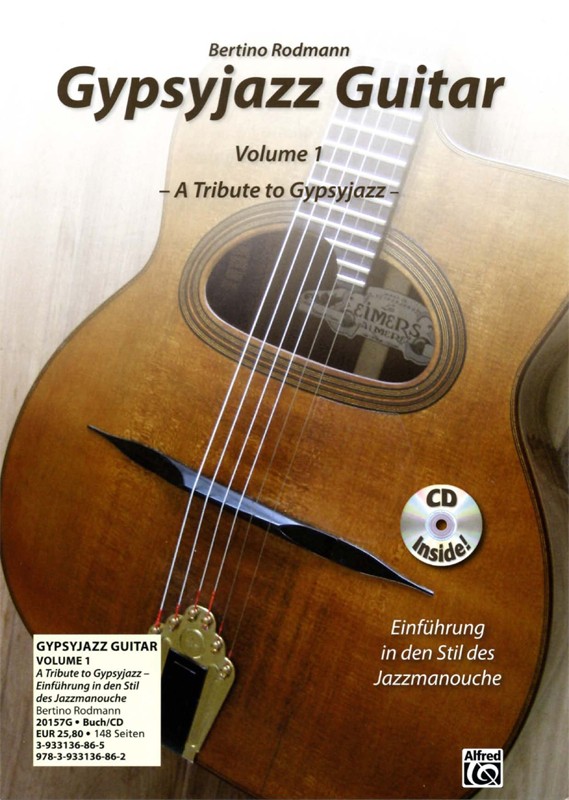 "Gypsyjazz Guitar – a tribute to Gypsyjazz"
Gypsy-Jazz bzw. Jazz-Manouche ist der erste in Europa entstandene Jazzstil.
Seine Einflüsse kommen aus dem französischen Musette-Walzer, dem ungarischen Çsardas oder dem spanischen Flamenco, sowie der Sinti-Musik selbst, die von den Sinti-Musikern in Swing-Phrasierung interpretiert wurde.
Ziel des Buches: Nicht nur eine umfassende Gitarrenschule für Gypsy-Jazz Gitarre zu verfassen, die die rhythmischen und solistischen Aspekte der Gypsyjazz Gitarren-Spielweise vermittelt, sondern auch den Respekt gegenüber der uralten Tradition der Sinti.
Inhalt Teil 1: Rhythm Guitar: Comping, La Pompe-Rhythmus, Dead Notes, Gypsychords, Voicings, Blues-Kadenz, Chord Substitution
Inhalt Teil 2: Solo Guitar: Reststroke Picking, Arpeggio Picking, Sweptstroke Picking, Skalen, Arpeggien, Solo Licks
Verlag: Alfred Music Publishing GmbH; Auflage: 1 (15. Oktober 2011)
Sprachen: Deutsch / English ISBN-10: 3933136865 – ISBN-13: 978-3933136862
148 Seiten, mit Play-alongs und Noten & Tabulatur + Audio-CD Preis: 25,80
Erhältlich bei Amazon, Alfred Verlag oder www.bertino-guitarrist.com
---
Share this article:
Share this article: