Django Reinhardt – Guitar-Maestro (3/4)
Django Reinhardt – Guitar-Maestro (3/4) – After Django left hospital again in 1930/31, almost recovered from his injuries, he starts to play regularely again, working as accompanyingguitarist in some formations that worked at the Hotels, Bars and Restaurants as of the famous "Bals Musettes".
In the following months he meets Charles Delauney (photo right), a great french Jazz-Fan. Charles will become his personal mentor who will be at his side for many years after.
Initiated by Charles Delauney from 1933 to 1950 the "Hot Club de France", a kind of association for promoting the french Jazz, brought together many famous jazz-musicians such as Dizzie Gillespie, Charly Parker or Duke Ellington for concerts or Jam-sessions in Paris, also with Django Reinhardt.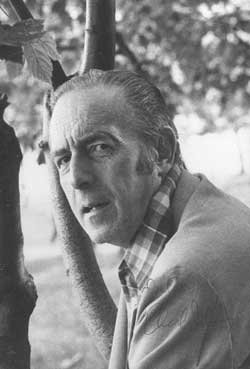 Charles Delauney also released a little Member-Magazine named "Jazz Hot" (image left) with the association, in which actual artists of the Jazz-scene were presented.
In the year 1934 as well on initiative of Charles Delauney the founding of the first setup of the "Quintette du Hot Club de France" as an offial Band was done, after Django Reinhardt and Stephane Grappelli – both members of the Band of Louis Vola, personly met in 1933 for the first time at their gigs with him.
The bassplayer Louis Vola at that time was the bandleader of a danceband which had a regular booking at the Hotel Claridge in the Parisian Arrondisment St. Germain.
All musicians in this band used to play french songs and chansons that were "hip" for dancing in this time. But nevertheless all musicians were absolutely excited by and interested in the "new sound" of Swing-Jazz that had swapped over to Paris from the USA around 1920.
This music-style had been established in the bars and nightclubs of Paris, mostly played by US-soldiers that had come to Europe within the 1st worldwar and that had stayed over there in the old world after. These musicians always used to play Jazz in Clubs and Restaurants.
But Django Reinhardt, Stephane Grappelli and Louis Vola weren´t allowed to play Jazz in the hotels for dancing. So they just used to jam on their favoured tunes in the backrooms of the hotel during their breaks between the gigs, fascinated by the new music.
The setup of the first Quintette du Hot Club de France, which was only made up from stringed instruments was formed by these jam-sessions, resulting in the following musicians-setup: Django Reinhardt (Sologit.), Stéphane Grappelli (Viol. Piano), Joseph Reinhardt (Rhythmgit), Roger Chaput (Rhythmgit.), later on exchanged by Pierre "Baro" Ferret, and Louis Vola on Bass. Later on it was also Francis Luca (see photo top left) and Emmanual Soudieux on bass. The famous "Quintette du Hot Club de France," was born!
From this setup the term "Stringed-Jazz" (Jazz played with stringed instruments) was invented, as normally Jazz would have solely been played with wind-instruments (Saxophone Clarinette, Trumpet) in this time. But due to the lack of any wind-instruments in their setup the musicians of the "Quintette du Hot Club de France," used to play Jazz just with their string-instruments like violin, guitars and bass.
In 1939 when the 2nd worldwar was due to begin Django Reinhardt and Stephane Grapelli stayed in London for some concerts with the Quintette. But Django now doesnt want to stay there and eagerly returns to Paris to his family.
So Stephane Grapelli remains alone in London during the war-time and Django returns back to France with the rest of the musicians of the Quintette.
In the later years between 1939 and 1950 Django starts to work in different setups of the "Quintette du Hot Club de France," together with clarinette-player Hubert Rostaing or Alix Combelle at the saxophone (see photo top right).
Read more -> Django Reinhardt – Guitar-Maestro (4/4)
Share this article: