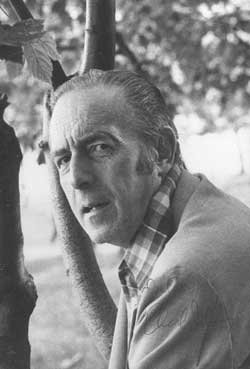 Charles Delaunay was born in 1911 in Paris (France) as son of Robert and Sonia Delaunay, two worldwide known artists that were interested and strongly involved in Cubism and Orphism.

Born into this family that was engaged inside the artist-circles of the "Belle Epoque" in the Parisian artistscene of the 1920ies and 30ies, Charles grew up sourrounded by Art, music and culture.
Some friends of his parents Robert and Sonia that supported him since childhood were for example: Appolonaire, Wasily Kandinsky, Igor Stravinsky, Pablo Picasso, Georges Braque, Henri Rosseau, Jean Cocteau and many more.
Grown up from this cultural surroundings was Charles a man with great talent for art, writing and music, which he kept until his death. He was to become honoured and approved with many prices in France as worldwide.
One of these honourings that Delaunay received in 1976 was his invitation to the USA on the occasion of the 200-year-anniversary of the "Smithsonian of institution" in Washington D. C./USA, with which he has engaged as a foreign language assistant in the in the section "Jazz".
Charles was honoured this way for his wonderful work of his "Hot Discography", a publication with listed about all jazz records up to this day, that he deservingly had made. Most of the records listed inside this catalogue were of american origin.
In 2. worldwar Charles Delaunay was becoming a member of the french Resistance working in the underground, later on he was to become a soldier in air-defence inside the french army.
English-speaking Charles Delaunay learnt his English mostly from American jazz musicians that had staed in Paris after the 1st worldwar. His typical french humor created senteces like: "… You see, it came to pass that most of these colored cats were solid gates and played like Pops and Bechet!" That was typical for him.
Although Django Reinhardt already started to play in 1920 on six-string-banjos, he was "discovered" first in the early 1930ies as a guitarist, almost at the same time as well as Delaunay, Emile Savitry and Louis Vola began to play music on guitar and double-bass.
Charles Delaunay together with Pierre Nourry from french Jazz-association "Hot Club de France" heard Django Reinhardt play for the first time in a back room of the Hotel Claridge in Paris at one of the jam-sessions during the breaks of the gigs of his band, that was later called "Quintette du Hot Club de France", and he was fascinated immediately by him (see also Django – the Guitar-Maestro and Quintette du Hot Club de France). And Delaunay was to become his biggest fan, mentor and even later on his manager for some years.
In 1931 Louis Vola was the Bandleader of a group of musicians that worked together as a "dance-band" in the Hotel Claridge. In this Band the later members of the Quintette met for the first time and played the Jazz-tunes that newly arrived in Paris in the brandnew Jazzscene of the roaring early 1920ies-30ies.
Even if Louis Vola was the first that engaged Django Reinhardt as guitarrist for his band at the "Palm Beach Club" in Cannes/France and also brought him into the dance-band at Hotel Claridge, it was Delaunay who formed the later worldwide known "Quintette du Hot Club de France".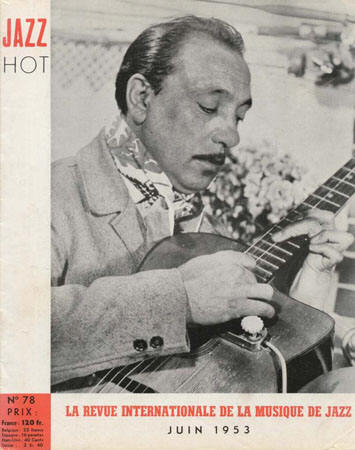 This incredible String-Jazz-formation, playing with 1 Violine, 3 Guitars and 1 Uprightbass, was named after the "Hot Club de France". A french association of which the members were just Jazz-Enthusiasts who loved to listen to Live-concerts or records of Jazz, discussing about it afterwhat. And as well as they were organizing concerts themselfes and publishing a small Member-Magazine called "Jazz Hot" (see image left). The association "Hot Club de France" was founded by one of Delauneys best friends, Pierre Nourry.
The band called "Quintette du Hot Club de France" was yet the one to make up the later used term of "String-Jazz", cause all musicians used to play on "stringed-instruments", which was absolutely unsual for a Jazzband at that time. Their style is known in France also as JazzManouche, because many Gitans (Gypsies) were involved in the development of this musicstyle – and still are today.
The very first setup of the Quintette du Hot Club de France was made up by Django Reinhardt, his younger brother Joseph Reinhardt and at first Roger Chaput (later on additionally by Eugene Vees, Baro Ferré or Marcel Bianci) on Rhtyhmguitars, Stephane Grappelli on violin (or Piano sometimes) and Louis Vola at the bass.
Later on, during the war-years Django exchanged places of the two guitarrists Roger Chaput and Eugene Vees from 1946 until around 1949 by clarinette-players Gerard Levecque or Hubert Rostaing (see also Django – the Guitar-Maestro and Quintette du Hot Club de France).
Delaunay for years on after 1933 became the Agent and Manager for the Quintette and organized even a concert of Django for the french president.
Also he was the one to bring Django in touch with many well known Jazz-musicians such as Louis Armstrong, Duke Ellington and Benny Goodman and organbized concerts with them.
Later on, around 1967, it was again Charles Delaunay who was helping out Django's second so Babik Reinhardt as recording-engeneer and organizing his first solo-recordings as well as organizing his first concerts afterwhat.
Additional to all his activities in France in conjuction with his "Hot Discography"-series of which he published 5 issues in England, France and the USA, Delaunay wrote one of the most detailed biographies about Django Reinhardt in the 1950ies with the title "Django Reinhardt".

Also he published "Hot Incography", a picturebook about Jazz-musicians, as well as "De la vie et du Jazz", "Jazz 47 " in close work together with Robert Goffin and last but not least releaesed the book "Django mon frere" ("Django my brother", only in french).
Charles Delaunay was a wonderful cultivated man who spent his life beeing a helping hand for others. This all will always be reminding about him as long as there will be Django´s-Music, JazzManouche, la France, the poetry, art and "Le Jazz Hot" in general.
(partly Source: maro-drom.com)
---
ADVERTISING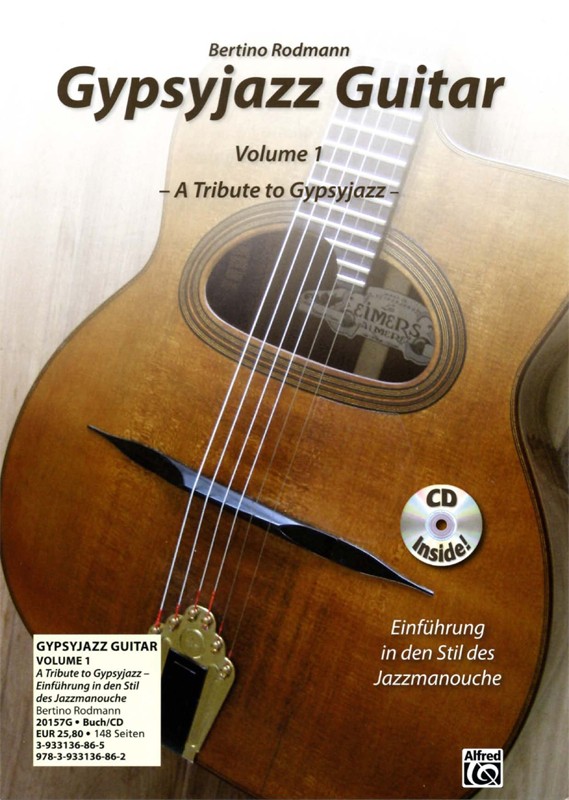 "Gypsyjazz Guitar – a tribute to Gypsyjazz"
Gypsy-Jazz bzw. Jazz-Manouche ist der erste in Europa entstandene Jazzstil.
Seine Einflüsse kommen aus dem französischen Musette-Walzer, dem ungarischen Çsardas oder dem spanischen Flamenco, sowie der Sinti-Musik selbst, die von den Sinti-Musikern in Swing-Phrasierung interpretiert wurde.
Ziel des Buches: Nicht nur eine umfassende Gitarrenschule für Gypsy-Jazz Gitarre zu verfassen, die die rhythmischen und solistischen Aspekte der Gypsyjazz Gitarren-Spielweise vermittelt, sondern auch den Respekt gegenüber der uralten Tradition der Sinti.
Inhalt Teil 1: Rhythm Guitar: Comping, La Pompe-Rhythmus, Dead Notes, Gypsychords, Voicings, Blues-Kadenz, Chord Substitution
Inhalt Teil 2: Solo Guitar: Reststroke Picking, Arpeggio Picking, Sweptstroke Picking, Skalen, Arpeggien, Solo Licks
Verlag: Alfred Music Publishing GmbH; Auflage: 1 (15. Oktober 2011)
Sprachen: Deutsch / English ISBN-10: 3933136865 – ISBN-13: 978-3933136862
148 Seiten, mit Play-alongs und Noten & Tabulatur + Audio-CD Preis: 25,80
Erhältlich bei Amazon, Alfred Verlag oder www.bertino-guitarrist.com
---
Share this article: