Django Reinhardt – The Painter (1/2)
Django Reinhardt – The Painter (1/2)
For many it is hardly conceivable, however, his art-works show it: Django Reinhardt was not only a wonderful guitarist, composer and musician, he was (also) a good painter. And if one believes to the art-experts – even a very good one.
Grown up in the creative sphere of the Paris art-, music- and artist's- scene of the wild 1920ies, Django was quite early in contact with many artists of this time. People like Jean Sablon, Salvatore Dali, Jean-Paul Sartre and Edith Piaf were counted to his good friends.
And, hence, Django has always been impressed very much by the great painters like Rembrandt, Matisse or Gogin just the same as he admired classical musicians like Bach, Beethoven or else.
Django started rather early to be interested in art and painting and also started to paint sporadically, indeed, in the beginning rather besides as a hobby.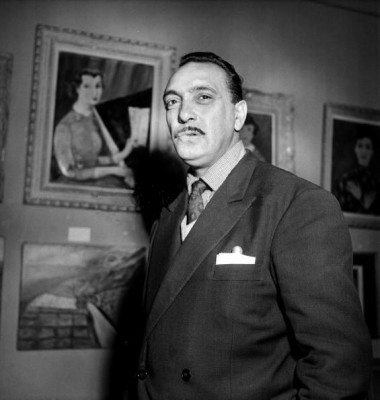 It is just about 1949 after his return from the USA-tour that Django started to paint much more intensely and to deal almost exclusively with the painting. This went so far that he wanted to quit playing music and his guitar for ever. However, thanks to his friend, manager and mentor Charles Delauney, in the end it went differently. . .
Django Reinhardt's paintings were strongly influenced by the impressionism of the past decades (Django was friends with Salvatore Dali among other painters) and in some regard rather in the abstract. Sceneries, abstract motives and moods.
But he also painted act pictures – rather very unusually for a Sinto. However, one must think the time of the 20ies and 1930ies were crazy, freely and wild.
Even today Django Reinhardt's paintings are still to be showed in France inside galleries or some museums from time to time, as at last in 2010 with a big retrospective to the honour of his 100th birthday.
Read more -> Django Reinhardt – the Painter (2/2)
---
Share this article: