History – Jacques Favino, was born in Piemont, North-Italy in July 1920. In 1923 he immigrated to Paris / France with his family. Already very early Jacques Favino learns the crafting of building instruments.
Favino first started to work in the workshops of Barnabe Busato in Paris building guitars for quite some years until he was opening his first own workshop approximately around 1956.
While Busato quite early from around 1935/36 was building Gypsyjazz-Guitars with bigger-sized bodies (compared to the smaller sized-bodies of the original Selmer-guitars), Jacques Favino took this as a kind of blueprint for his own creations of guitar-models later on.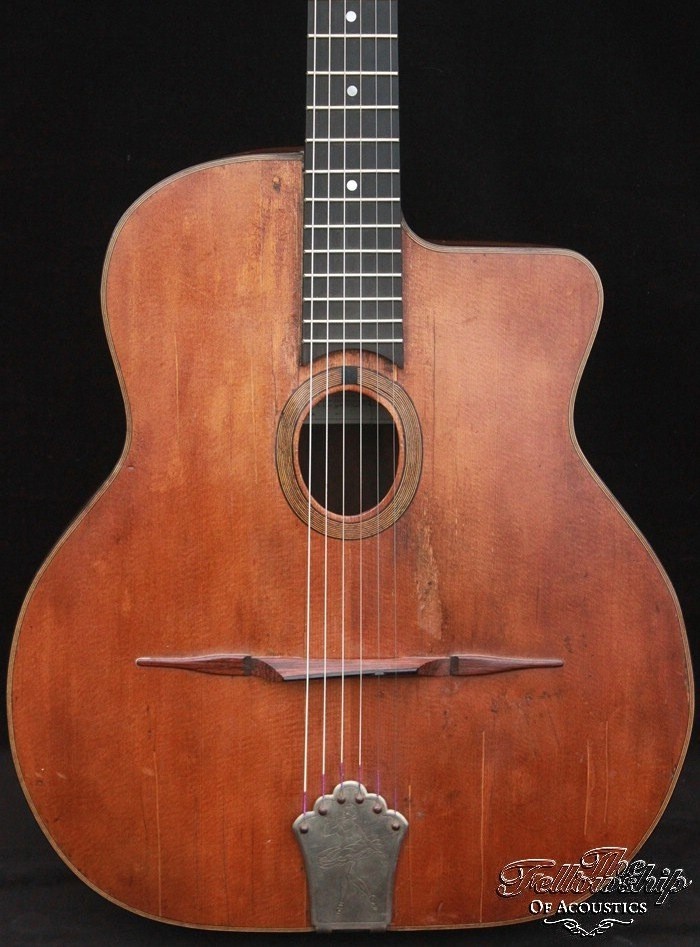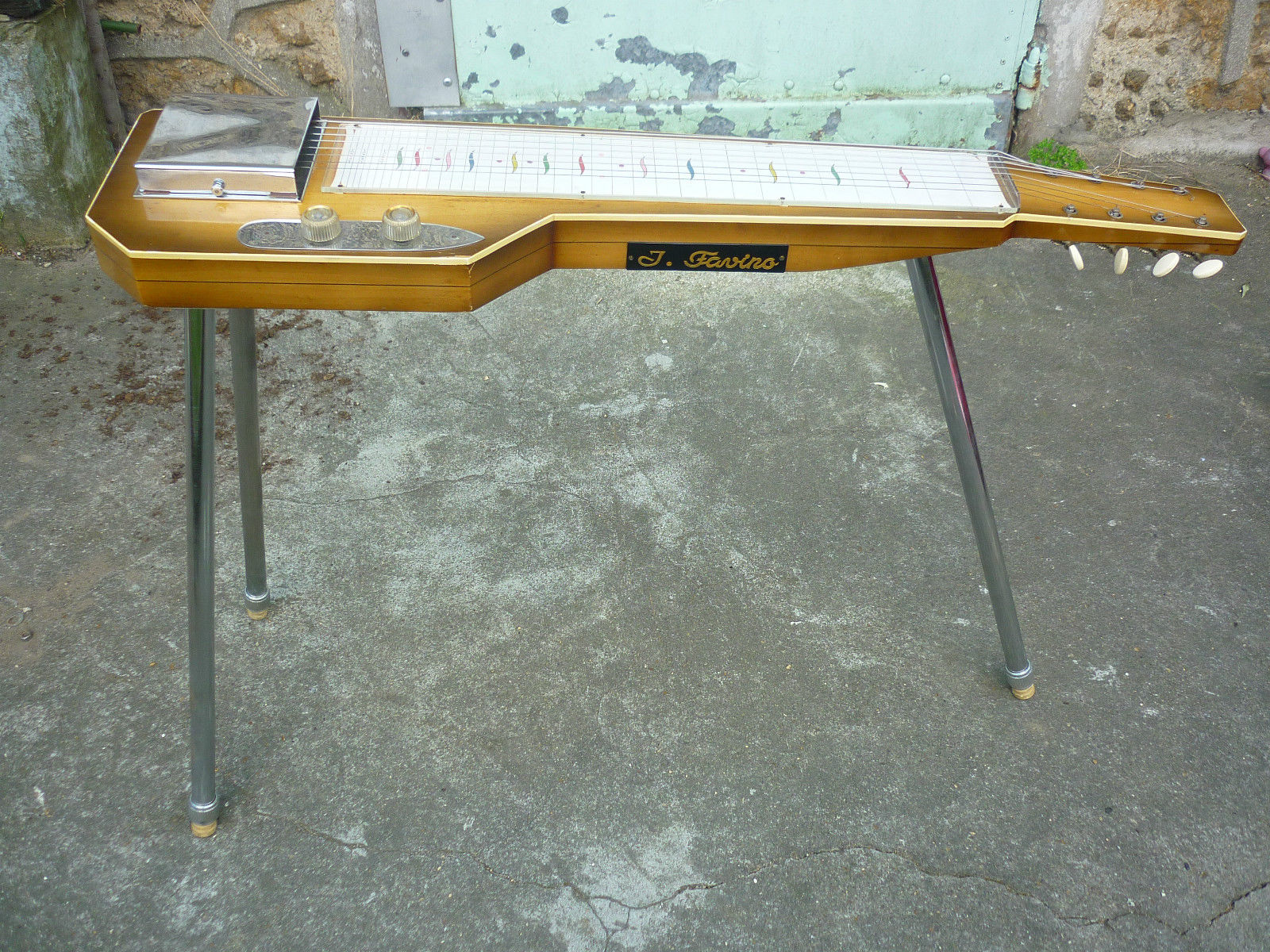 So in the beginning he didn´t copy the famous Selmer-guitars of guitarmaker Mario Macafferri, but was more or less inspried by the guitars of Busato, in whose workshops he had been working for quite some years. Nevertheless Jacques Favino later on as well built some smaller-bodied Selmer-type Guitarmodels, supposedly made as special-orders for some of his customers. Around 1956/57 his first own guitars were ready to enter the market.
In his workshop he had two more co-workers, Gino Papiri and Ugo Teraneo, two other italian immigrants and luthiers. In 1975 his only son Jean-Pierre Favino was joining his father in the workshop as well.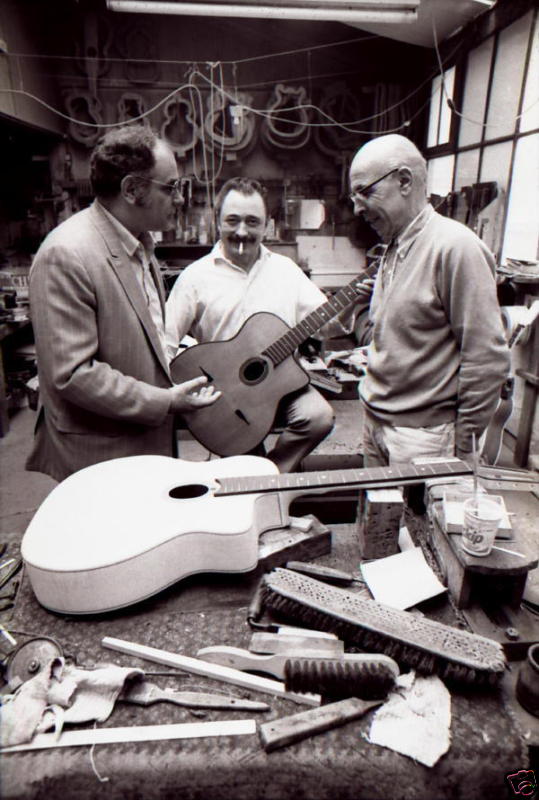 Over time Jacques Favino had different workshops, but his most known adress has been in the Rue de Clignancourt 9, at the bottom underneath the Montmartre in Paris.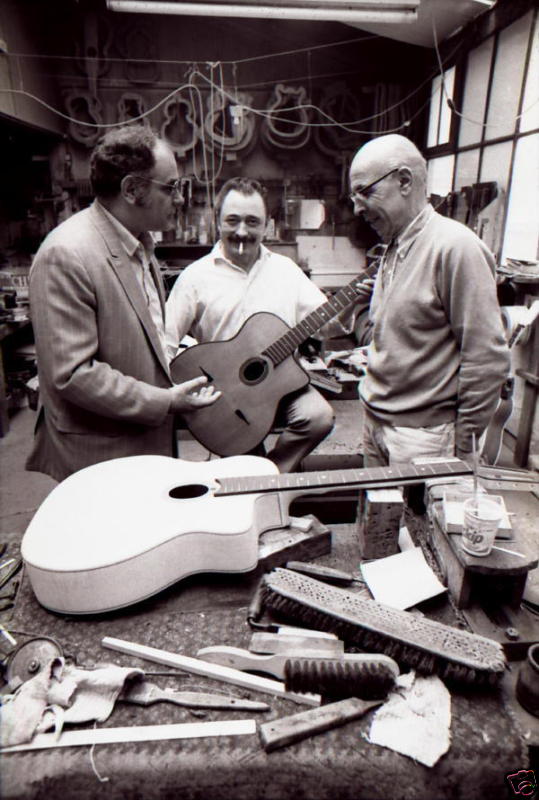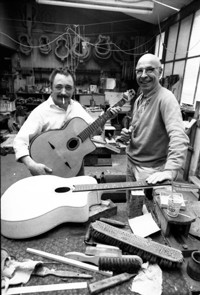 Later on in the early 1970ies Jacques Favino was also exporting his guitars to North-America with his small company named "Favino North America". To avoid taxes these guitars were shipped readily built, but without beeing laquered. They were finalized in the USA by the famous "Wurlitzer Organ Factory" in Oregon beeing laquered and finisehd for sale.
The chief-executive of the american dependance of his company "Favino North America" has been a good friend of the boss of Wurlitzer. Joan Baez, the famous american protest singer- /songwriter for long years played one of these "american" Favino-guitars.

At the beginning of 1978 Jacques Favino slowly began to withdraw from the active business, but kept on building guitars together with his son Jean-Pierre until late 1984.
In 1985 finally retired and went to live at the french Côte D'Azur around Cannes. He died on december 20st 1999 in Cagnes-sur-Mer.

For all of his life the musicians and their wishes have been the most important thing for Jacques Favino. His workshop always has been a great meetingpoint, where musicians commonly met to discuss about music and guitars and did jam as well. So there was always a direct communication between Jacques Favino, the luthier and music-lover and the musicians who played his instruments.
From 1984 his son Jean-Pierre Favino (image right) officially took over his business and workshop.
In the first years he was exactly building guitars like he had learned it from his father. Just many years later he started to develop creations of new guitar-models on his own.
Read more History – Favino-Guitars (2/2)
---
Share this article: