Django Reinhardt – Guitar-Maestro (4/4)
Django Reinhardt – Guitar-Maestro (4/4)
After his return from London to France in 1946 Stephane Grapelli again meets with Django Reinhardt.
But although there are some tries for "reunions" of the original setup of the Quintette with Stephane Grapelli between 1946 and 1949, these were not for good and long lasting, thus resulting just in a few recordings (for example the Album "From Swing to Bop").
Already beginning with the first years of war around 1941 until 1946/47, Django Reinhardt was very much interested in the more popular sound of Swing-Jazz and the new Bigbandsound of that time. As well cause the first great success of the Quintette in the 20ies and 30ies all over Europe and especially in France had vanished a bit and the musical taste of the public had changed, so Django was looking for new frontiers.
In 1949, again initiated by his friend and Manager Charles Delauney, Django Reinhardt gets invited for a big USA-tour with the Duke Ellington Orchestra. During this tour he is to meet all famous american Jazz-players of that time like Satchmo, Benny Goodman, Harry Volpe and many others.
As already since 1941 and the more after his return to France from this Tour in 1949, Django himself more starts to experiment with this new sound of "Bebop"-jazz that he adapted in America. He forms another setup of the "Quintette du Hotclub de France" together with musicians like Alix Combelle or Hubert Rostaing (on clarinette and saxophone).
The later recordings of the Quintette since 1946 until theend of 1950 clearly show a strong change in his own playing, strongly influenced by the bebop-sound of the electrical guitarstyle of a Charly Christian or saxophonist Charly Parker.
For all his life Django Reinhardt was always interested in new sounds, in extending frontiers and taking up challenges, but especially adoring the "classical" writers like Bach, Beethoven and Edvard Grieg.
Django Reinhardt dies, still very young, on May 16th 1953, just at the age of 43 years, by a brainstroke in the hospital of Fontainebleau (see also Django Reinhardt – private Life (1/6).
Apart from his family many friends, admirers and fans were coming to his burrial to give a last honour to their great idol and role model (see image right).
Django Reinhardt´s unique and inimitable playing, his creativity and playing joy as the ability to create melodies in pure beauty and precision still excite thousands of guitarists and music fans with enthusiasm until this day all over the world.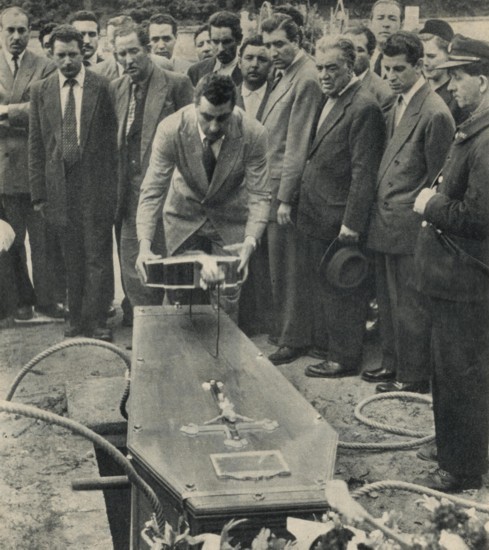 Django Reinhardt was a musical genius who will remain untouched. His influence on the playing of guitarrists of all kinds (not only in Jazz) as well remain until this day.
If you want to read more about Djangos Lifestory be sure to read our article-series about Django Reinhardt – private Life (1/6). On the net there are as well more infos, here a well made and detailed biography on Django Reinhardt.
Read more – Django Reinhardt – private Life (1/6)